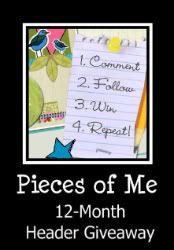 This is an awesome contest for all who are looking for a new blog header!!! Which is something I really need :0)
Pieced of Me is doing the contest and this is what she says; "Ok, here's the scoop. I will be giving away one OH-SO-CUTE header each month for one year. November's winner will be getting a little extra somethin' somethin'. Each winner will be announced and featured as my Peep of the Month on the 1st Monday of the month."
I am totally excited about it and had to tell everyone the news! Take a minute to stop by her blog to check it out and follow even if you don't want a new header, it is a really neat blog that I will be going back to often.
This link will take you right to the contest and you will be able to see all of the super cute headers!!!!!
http://piecesofmiti.blogspot.com/2009/11/my-blogoversary-is-almost-here-and-to.html
Good luck to all who enter!!!